Room D1-8, 12/F Hang Fung Industrial Building Phase 1 2G Hok Yuen Street, Hung Hom, Kowloon Hong Kong
TEL (852) 2330 2322
FAX (852) 2364 0032





Synthetic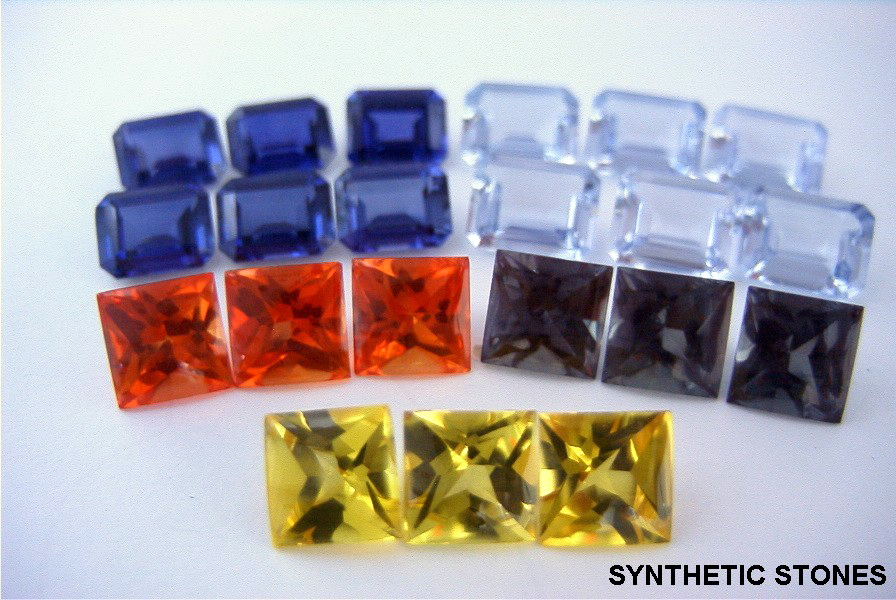 Synthetic
Synthetic Corundum
Mohs Hardness: 9
Specific Gravity: 4
Reflective Index: 1.76-1.77

Crystal structure: Hexagonal Chemical composition -- Aluminum oxide. After diamond, the next hardest gem material. Tough, but still subject to chipping and abrasion. Stones worn regularly in rings will periodically need re-polishing to remove minor chips and pits.

Synthetic Spinel
Mohs Hardness: 7.5-8
Specific Gravity: 3.58-3.63
Reflective Index: 1.72

Crystal structure: Isometric (cubic) Chemical composition: Magnesium aluminate. Color: Red, blue, green, purple, orange, gray, brown, near colorless. Synthetic Spinel has often been confused with ruby and sapphire, but it provides many fine gems in its own right. Some famous large "rubies," such as the Black Prince's Ruby and the Timur Ruby in the British Crown Jewels are actually spinels. Fine large stones are rare and expensive, but smaller stones are quite abundant.

Synthetic Quartz
Mohs Hardness: 7
Specific Gravity: 2.651- 2.91
Reflective Index: 1.553-1.554

Crystal structure: Hexagonal Synthetic quartz has been around for decades. In fact it is the synthetic quartz industry that made quartz watch movements possible. The sad part about this gem material is what it has done to the market for fine quality, natural amethyst. The synthetic so closely emulates the natural, and is very difficult to distinguish from the natural.

¡@